Hello fellow musicians. I'm Lodi Bautista and here are my favorite list for the World's Best Shredders in The World. Hope you'll like my list, and aid in the contribution of giving you some ideas  and my personal preferences about my ideal shredders around the world.
Help me spread my music by liking and sharing the links of my experiments:
http://www.facebook.com/spiderbat84
http://www.facebook.com/spiderbat84/app_2405167945
http://www.twitter.com/Lodibautista
http://www.youtube.com/user/lodibautistatonedeaf

http://lodibautista1984.tumblr.com/

http://www.reverbnation.com/lodibautista/songs

http://soundcloud.com/lodibautistatonedeaf

http://wattpad.com/lodibautista84

I have no intention of becoming popular, I only wanted to inspire other people and became the reason for them to always to move on, no matter how hard the fight.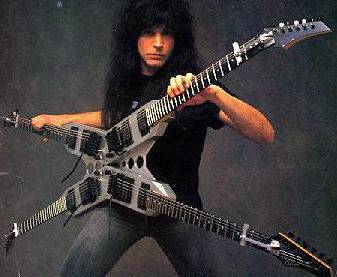 He's definitely the master of the fretboard, I cannot argue with that. His extremely fast picking and sweep picked arpeggios are very complex, the heavy rhythms in his playing are not easy to understood. For me he's in the Number One (1) position, because he's definitely a Super Saiyan god, when it comes to versatility in so many genres of music.  And according to my musician peers, he's a great teacher (I tried to follow and study his instructional DVD's, but I failed, I didn't have the required Super Saiyan Power to totally rape a guitar, imagine in almost his every songs, all the frets has been used like it was in an orgy). He was the first person in the world to successfully play the quad guitar and double guitar (sounds like a Dragonforce to me). Some people calls it a circus, to do Over-Under Technique, but who cares right? we talked about shredders here, and it's my personal lists.
Video Links:
http://www.youtube.com/watch?v=hb5QaCfm7bg
http://www.youtube.com/watch?v=iQ8ml7eENuI

I didn't know how he did it, but he is extremely fast. He plays at a very fast lightning speed and he's not even tired to shred, technically, he won't sweat with those hyper-speed soloing. His famous REH Video, about the famous Speed Soloing (which according to my fellow musicians), was truly terrible (Honestly, up to this day, I didn't have the required skills to follow a guitar instructional videos). I personally puts him in my listings as my Number two (2) because, he was indeed a younger brother of the guitar god. Besides, his heart-burning "Somewhere Over The Rainbow" Guitar Solo, is really intense and emotional.
Video Links:
http://www.youtube.com/watch?v=9Bf2oZVe3FY
http://www.youtube.com/watch?v=IJSLhvSmORI
http://www.youtube.com/watch?v=7paQX5Gdn1U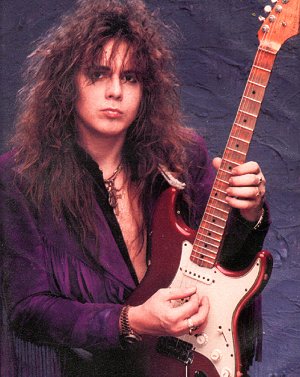 I was still a kid when I heard of his solos, and it reminds me of my childhood video games soundtracks. He emerged around the 80's and was the most technically accomplished  player in terms of modes mastery. He was a icon of Neo-classical metal, and contributed greatly to the development of the style in the 1980s. I was about to put him in the Number One (1) position, but we talked about the world's fast shredder here. He is more melodic compared to Michael Angelo Batio, even to Chris Impellitteri, but at a certain point, complexities and speed has been my personal criteria here. So there he is Yngwie J. Malmsteen, ranked as my Number Three (3) Shredder.
Video Links:
http://www.youtube.com/watch?v=02RRM-4A1m4
http://www.youtube.com/watch?v=5kMtWpeKggU

That ungodly pinky finger  was enough for him to be placed in the 4th position for the world's best shredders in the world. He's a virtuoso, and an obvious influenced of today's guitar player. Highly-technical pieces like "Technical Difficulties", "Frenzy" and "Scarified" was a proof of his superb ability. His brilliant work with the Racer X and Mr. Big as well as with solo works are just incomparably crazy.
Video Links:
http://www.youtube.com/watch?v=EqeQto8PZYU
http://www.youtube.com/watch?v=NITX8WdOHWk
Born Jason Eli Becker, at a young age, he's definitely on a prodigy level (played with Cacophony at the age of 16, his solo works with the album "Perpetual Burn", and later joined "David Lee Roth's Band"). Having diagnosed with  amyotrophic lateral sclerosis (Lou Gehrig's Disease), he managed to finish recording the album with David Lee Roth, but was unable to tour in support of the album, as his condition left him with little strength in his hands. Up to this day, he was still respected by fans and his musician peers (the very same reason why I can't removed him in my personal top shredder's lists).
Video Links:
http://www.youtube.com/watch?v=9WqE_q3kFUM
http:/www.youtube.com/watch?v=otSS9ntk968
Although not a familiar name to many outside musician's circles, today's guitar virtuosos such as Rusty Cooley, Michael Romeo, Guthrie Govan, Paul Gilbert and many others regard him extremely highly, and the American Guitar Institute has named him the "greatest guitarist who ever lived".[7] Guitar World magazine wrote in 2008, "Few, if any, guitarists can play faster than Lane could, and his arpeggio sweeps and precision-picked lines blasted more rapid-fire notes than the average human mind could comprehend."
from:   http://en.wikipedia.org/wiki/Shawn_Lane
He also makes me think that jazz fusion is the most difficult genre of music to play. His mind was insanely brilliant and he's also the great guitar teacher of Buckethead.
Video Links:
http://www.youtube.com/watch?v=R0ODb4yhKXY
http://www.youtube.com/watch?v=9Jit_KXxhX4
He has released over 77 studio albums, 4 special releases, 1 extended play, 2 demo tapes, 3 video releases, 2 DVDs, 3 music videos and 10 songs not released on albums. Up to this day, he never stop making music. He has totaled 61 works with other bands and artists. The total number of works with other artists and himself is 106. His compilation albums and guest appearances total 98. In total, Buckethead has been involved with 204 different projects. As of his 77th album, "Pike 47", his total studio album running time is approximately 48.5 hours. He's completely underrated, you know.
He is considered to be one of the master of 6-fret guitar, due to his technical mastery of it. His musical creativity spans such diverse areas as progressive metal, funk, blues, jazz, bluegrass, ambient, and avant-garde music. Having mastered all of the known guitar ninja skills, Buckethead was considered to be one of today's more innovative guitarists, and I personally put him as the Number 7th in my lists, because, my music has been heavily inspired by this killer guitar machine. His music is sweet and fresh, everytime he releases an album, it feels like a new story for me.
Video Links:
http://www.youtube.com/watch?v=FTK4H88M5Tk
http://www.youtube.com/watch?v=Iw3TT0E0uwU
http://www.youtube.com/watch?v=_mGvfp6ckuI
http://www.youtube.com/watch?v=4RpkBPs_mkQ
http://www.youtube.com/watch?v=SjgrkaIIkOQ
Known for his work with the bands The Aristocrats, Asia (2001–2006), Docker's Guild, GPS, The Young Punx and The Fellowship as well as Erotic Cakes. This astonishing guitar instructor from Chelmsford, Essex, England has been considered one of the world's best contemporary electric guitar players, and one of the most flexible players in musical scope. He is known for his ability to teach a wide range of styles. With his virtuoso command of the guitar, due to both his technical ability and proficiency in various styles, which hailed him as the "virtuoso's virtuoso" and said of him, "Guthrie Govan is recognised by his peers as possibly the scariest guitarist alive.
(Well, I totally agree with it, but still, I always wanted to compare his skills to the great ninja skills of Buckethead)
Now, my dream G3 Session, wil be Michael Angelo batio, Guthrie Govan and Buckethead. They're all both involved in complex music.
Video Links:
http://www.youtube.com/watch?v=THN_bpf4VRA
http://www.youtube.com/watch?v=572wB3YS3xg
http://www.youtube.com/watch?v=aA8fzsE7tWU

What a notable high speed alternate picking he's got. Well, personally, his extensive use of seven-string guitar combined with his metal shredding technique has almost made me stop to do guitar again. His variety of guitar styles and skills are totally endless. According to my friends, if ever you've watched his instructional DVD's (here we go again, I can't even follow a guitar instructional DVD's), his video is by far one of the easiest to follow, but one of the hardest (I don't get it). I've put him as my Number Nine (9) in the lists because, there's no way a metalhead like me would set aside this great guitar master in everybody's guitar heroes lists.
Video Links:
http://www.youtube.com/watch?v=KQLDt9WxCL8
http://www.youtube.com/watch?v=-5VwPfyEq3w
http://www.youtube.com/watch?v=FkrV8Pdw8uM
Come on, read the book. There'll be no shredding if this great Jedi master wasn't born. I highly respected this guy. He is completely underrated, but definitely one of the few guitarists who can make fast playing sound interesting. His musical career has spanned more than three decades, he has become respected as one of the most influential guitarists in jazz to date.
Video Links:
http://www.youtube.com/watch?v=Q1F4etHibVo